On July 12 Ruby, Can/Am Ch Seabury's Goodby Ruby Tuesday, AOM, CGN gave birth to 8 beautiful pups, one boy (brown), seven girls (one Irish brown, one Irish black, two brown girls, three black girls with white), all wavy. Proud dad is Baylee, UKC Ch Hunter's Kwik Frozen Tombouy.
Week One: Ruby Introduces her Pups
Week Two: 11 Days Old, Starting to Toddle!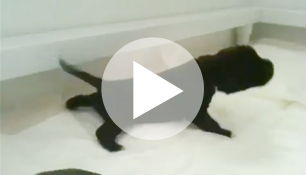 Week Two
Week Four Videos
Week Four
Week Five
Week Six