Franklin, Can/Am GCH Seabury's Franklin in the Dark, AOM has bred to Amalia, Can CH Fado's Amalia O Incomparavel, and she's had 11 black wavy puppies born February 25, 2018, contact breeder Deirdre Hall at deirdre@fadopwd.com for availability and more information.
Seabury's 2017 litter
BOSS Can GCH/Am Bronze GCH Seabury's Sophie Tucker, AOM and Am/Can CH Keeva Bay's Fifty Shades, Christian,
have been bred, eight puppies were born January 18th, 2017. Four boys and four girls, All pups are now in their homes.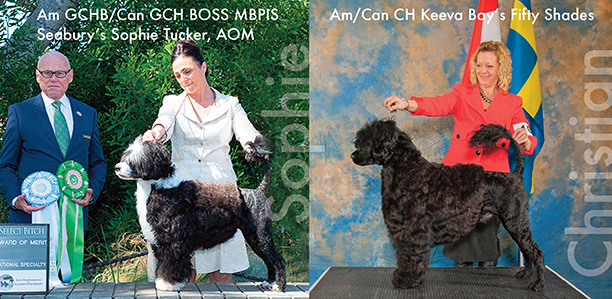 2013 Puppy Litter
We're always happy to talk and meet with you to discuss PWDs and our dogs.
Part of our interview process for new families is an Application/Questionnaire to help us understand your lifestyle, interests and dog experience.
You'll find it on the Application page.
Please feel free to fill it out and by hitting the submit button it will be emailed to us. Then we'll contact you for a visit so you can meet our dogs.
We raise the pups underfoot in our bedroom and kitchen, they are carefully socialized, checked by our vet, wormed, with one set of vaccinations following Dr. Schultz's modified protocol. All pups are temperament tested and assessed for structural excellence. We also spend 8-10 weeks studying each pup, watching how they interact with their dam, their siblings, our other dogs and the many visitors we invite to meet the litter. This helps us match each puppy to the most suitable home.
Sire and dam are health tested in compliance with PWDCC and PWDCA recommendations. Their tests can be verified on the PWD Health and Litter database and on the open registry of the Orthopedic Foundation of America, www.offa.org and we invite you to check these sites.
We provide a list of recommended reading and a comprehensive puppy package outlining crate and potty training, socialization and training, feeding and grooming. Your pup comes with a baby crate that it has been acclimated to, a supply of food, toys and reminder of mom and its siblings to make the transition to your home as easy as possible.
We are always available to help and support you.
All pups are CKC registered, sold under contract that requires spay/neutering for pets. We are always interested in homes that want to work or show their dogs. We will work with you to introduce you to the world of conformation or performance showing.