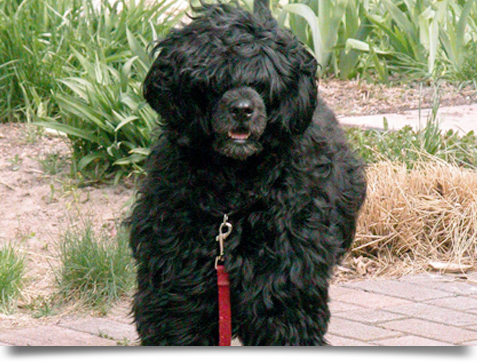 Can/Am/Mex Ch Hunter's Eastcoast
Blackout, AWD, CGN
DOB: July 28, 2003
OFA Hips: PW-4219E25F-PI
Elbows: OFA Normal
GM-1: Normal
OFA ECR: PW-EYE98/112F-VPI
Optigen: Normal
JDCM: 1-1 Probable Normal
IC: Normal


Tikka is our foundation dam, she was bred by Elaine Suter, Hunter (reg'd) of Michigan. Elaine also bred Schooner's sire and over the years she has been a wonderful mentor, sharing her knowledge and experience. In this breed, there is just too much to learn, and without the generosity of mentors, you just wouldn't get very far.
Tikka is a great working girl with great breed type. She epitomizes PWD work ethic. Tikka is active with John in Agility, Water Work and Obedience.Tikka is a black wavy, 18 3/4 in., 46lb. She was first bred to the beautiful Fleet, Am Ch Almirante Da Armada, AOM, owned by Barb and Roy Cawley of Floriada, producing a lovely litter of five puppies, one male, four females, all wavy and black with white markings in March 2007.
Tikka was bred again, to Am/Can Ch Del Sur's Sea Trout, a brown wavy boy, owned by Lana Woodburn, another wonderful breeder who supplied the foundation stock on Schooner's dam's side. So we've come full circle on this breeding. The puppies were born April 4th! Tikka had 12 pups, eight females, four males, equally divided brown and black, all wavy.
In 2009 Tikka was bred to our own Schooner, Can/Am/Mex Ch BVIS Ondulado's Schooner D'Sonoqua, AOM(s), AgN, AgNJ and on July 5th she gave birth to 11 puppies, 4 males, 7 females, all wavy, one brown girl, the others black some white markings.
Tikka is now retired from breeding and is working on Water Work and other performance sports. She will be overseeing the progress of her children, Ruby and Nash as they make their marks on future breedings. For information on future litters please contact us and/or fill out our Application on the contact page.