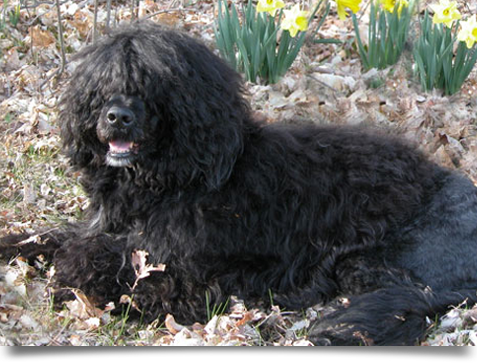 BVISS, BVIS, Can/Am/Mex Ch Ondulado's
Schooner D'Sonoqua, AOM(5), AgN, AgNJ
June 14, 1999-October 7, 2013
OFA Hips: PW-2944G24M-PI
GM-1: Normal
CERF: PW3871/08-111
Optigen: A
JDCM: 1-1 Probable Normal
IC: Normal


Schooner after a long, productive and happy life departed as he lived, with grace. He will forever be in our hearts, the best boy ever!
Schooner and our Ruby, Can/Am Ch Seabury's Goodby Ruby Tuesday, AOM, CGN, produced a lovely litter of 11 pups March 28th, 2013. Look for four of the pups who are scheduled to debut in the Conformation ring later in 2013.
Schooner's last show was the 2012 PWDCA National Specialty where he just showed in Sweepstakes for the fun of it, placing third behind two younger campaigned American dogs. At the 2012 PWDCC National, Schooner, Nash and Saydie placed first in the Generations class, showing quality over three generations of breeding.
At the 2010 PWDCC National Specialty, he went Award of Merit, Best Veteran in Specialty, Best Stud Dog with Saras and Nash as his get, and Best in Veteran Sweepstakes. A lovely ending for a wonderful show career in Canada. Good Boy Schoon!
Schooner earned his 4th Award of Merit from the 10-13 Veteran class September at the 2009 PWDCA National Specialty under breeder judge Linda Fowler, that rounds it up to 2 American and 3 Canadian Award of Merits at National Specialties.
Schooner went Best Veteran in Specialty at the 2009 PWDCC Regional Specialty under Judge William Cunningham.
Schooner had some fun at the Taconic and Nutmeg Specialty Shows June 6/7 2008. At Taconic he went Best Veteran in Breed and Best Veteran in Show. At Nutmeg he won Veterans' Sweepstakes and Veteran Class. Schooner finished off the year by winning the Veteran Sweepstakes at the PWDCC National Specialty, under Breeder Judge Bev Rafferty, Oct. 30, 2008.
Schooner, bred by Cathie and Steve Sockett, Ondulado (reg'd), was born June 14, 1999. He came to us as a nine-week old puppy. His show career began in June 2000, he quickly attained his CKC Championship. In 2002 he won his first Award of Merit at the 2002 PWDCC National Specialty in Montreal under respected breeder/judge Dr. Betty Trainor.In 2003 Schooner was the number 2 PWD in Canada (Top Show Dog Awards, Dogs in Canada), and in 2004, with limited campaigning, he was number 4. His wins that year included a Group 2 at the Alberta Kennel Club, an Award of Merit at the 2004 PWDCC National Specialty under Portuguese Judge Luis Pinto Texeira and multiple BOBs at the Abbotsford Show in B.C. And at the 2004 PWDCA National Specialty in Oregon Schooner won another Award of Merit under breeder/judge Letty Afong. Schooner was shown twice at Westiminister in New York City.
He is also an American and Mexican Champion and competes in Agility with two novice titles so far and legs in the next levels. Schooner is a black wavy, with a white chest, 22 1/4 in. tall, 60lb., he produces brown and parti colouring. He has a superb temperament and passes this on to his pups.