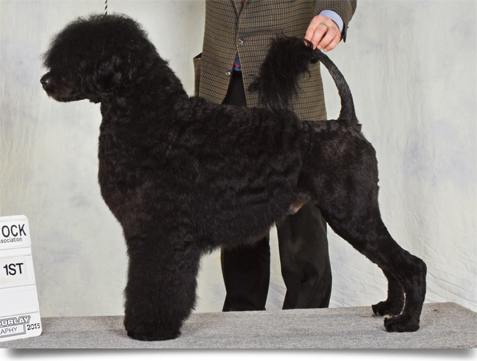 BIS Can/Am GCh Seabury's Final Voyage, AOMx2
DOB: March 28, 2013
Hips: Excellent PW-7348E24M-PI
Elbows: Normal PW-EL3037M24M-PI
GM-1: PW-GM1-2909/20M-PI
ECR: PW-EYE1608/50M-PI
Optigen: Normal/Clear 14-10839
JDCM: Probable Normal 7273
IC: Normal 14-10839
DNA: V759693
CHIC: 105776


Pedro is a Schooner/Ruby boy, with a lush black wavy coat. He loves the show ring, and with Will, has had an amazing start to his career. In 2014 he finished in Canada at 11 months, finished in the U.S. under Judge Mrs. Paula Nykiel with 4 majors April 26th at 14 months. He earned his U.S. Grand Championship on September 13th 2014, and in Canada earned his Grand on August 10th.
At the U.S. 2014 National Specialty he was Award of Merit under Judge Barbara Dempsey Alderman, at under 18 months, at the Canadian National he was Select Dog under Judge Luis Pinto Teixeira, and won the breed the next day at the Working and Herding Specialty under Judge Dr. Battaglia. Multi-group placing in Canada and the U.S.
Pedro was Select Dog at Westminster in 2016, A top 20 PWDCA dog in 2016, and an AKC Nationals Award of Excellence in 2015 and 2016.
Multi Best in Show winner in Canada, group winning dog in the U.S. and Canada.
Pedro is available at stud to approved bitches, with champion get on the ground, he is producing consistent typey get.